Friday, December 9, 2011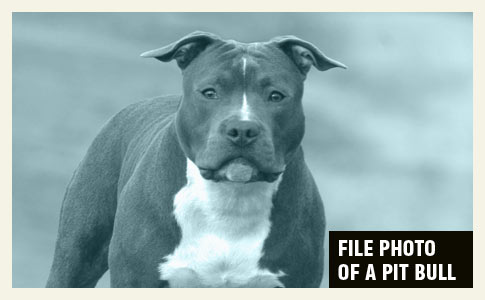 Misti Wyno, 40-years old, was attacked and killed by a pit bull in Valdosta, GA.
Neighbors Speak Out
UPDATE 12/09/11:
WCTV reports that Misti and the neighbors who owned the pit bull were "close." Bobbie Joe Courson owns the pit bull that killed Misti, along with three other pit bulls. James Sharp, whose 5-year old son was bitten by one of Courson's pit bulls in September, said: "I've even told the district attorneys and everybody at the aggressive dog hearing, if these dogs get out somebody was going to get killed." That pit bull was later released back to Courson.
12/08/11:
Woman Dies from Injuries
Valdosta, GA - In a developing story, a Lowndes County woman died this afternoon after being savagely attacked by a pit bull. Misti Wyno, 40-years old, was reportedly attacked as she walked to her neighbor's house to get some grits. A nearby
male chained pit bull
broke its chain and attacked. According to authorities, the dog repeatedly tore into the woman's legs and arms. The victim died about an hour later due to her injuries. Wyno's body is being sent for an autopsy.
Neighbor Jimmy Watkins told WALB, "I called animal control three times about this black dog, supposedly the one that attacked the lady, and they've been out here numerous times over the last three, four years about these pit bull dogs. There's three houses in a row, three of them have pit bull dogs." WALB knocked on the door at the property where the attack occurred, but no one answered. The sheriff's office did not return phone calls to WALB about the dog's owners.

View the DogsBite.org Google Map:
Georgia Fatal Pit Bull Maulings
.
Related articles:
09/28/11:
2011 Dog Bite Fatality: Ardmore Man Mauled to Death by Chained Pit Bull
Labels: 2011 Dog Bite Fatality, Chained Dog, Chained Dog Fatality, Fatal Pit Bull Attack, Georgia, Georgia Pit Bull Fatality

Please donate to support our work
DogsBite.org is a 501(c)(3) tax-exempt public charity organization. Learn more »
posted by
|
permalink
|
5 comments
|

email
|

blog rss
|

comment rss

5 comments:

april 29 | 12/08/2011 9:32 PM | Flag
Three pit bull mauling deaths in less than 48 hours after the Ohio Senate held a hearing on removing the insurance requirements for pit bull dogs. Look out Ohio!

vintage | 12/08/2011 10:46 PM | Flag
20th Georgian killed by a Pit Bull since 1980. RIP.

Jaloney | 12/08/2011 11:25 PM | Flag
This is horrible. I am so sick of people defending these dogs. So needless and so unnecessary!

Decatur AL livin nt to 4 pits | 12/09/2011 4:05 PM | Flag
In the most recent story from wctv.tv in Valdosta comments are being made that the owner of the attacking Pit Bull may be a relative of the victim -"they once had the same last names" one person said. Interesting Twist. The point being: THAT DOG HAD TO HAVE KNOWN THAT WOMAN !!!!!

vintage | 12/10/2011 1:49 AM | Flag
These "owners" were breeders...just what we needed, another litter of mankillers!

We are rapidly approaching 250 Americans killed by Pit Bulls and Rottweilers since the laughable CDC report was perverted by the dog lobby.

Julie Gilchrist of the CDC needs to be infront Congress justifying why her department deserves continued funding.