Tuesday, December 21, 2010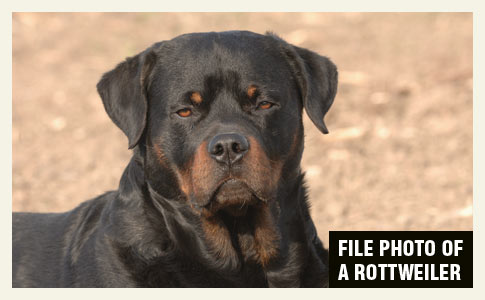 Jeannette Vaughn, 3-months old, was killed by one of her family's rottweilers.
Criminal Charges Unlikely
UPDATE 12/21/10:
New information reveals that baby Jeannette Vaughn was
inside
the home when one of the rottweilers pushed through a washing machine and a heavy slab of marble and mauled the infant to death.
In a separate article
, Chris Glaser of Bureau of Animal Regulation and Care (BARC)
1
was quick to point out to abc13.com reporters, "You can't judge the family unless you know exactly what happened" and "you can't judge the dog breed."
This is despite the fact the Vaughn family had over 1,000 pounds of dogs -- all rottweilers and rottweiler-mixes -- in their home, two of which had known problems with the baby and were kept away from her, and that rottweilers trail only pit bulls in
serious and fatal mauling attacks
. Deputy Thomas Gilliland of the Harris County Sheriff's Office said there will likely be no charges filed. "As of this time right now, we're looking at it as a tragic accident," he said.
2
Hoarders and Breeders Pile Up
The combination of hoarders and breeders continues to pile up in 2010 fatal attack statistics. This case marks at least the 9th (27%) of the 33 recorded deaths this year. Hoarding incidents include:
Michael Winters
, 30 (OH),
Cason Byrant
, 5 (AL) and
Kaden Muckleroy
(TX). Breeder incidents with six or more dogs on property
3
include,
Johnny Wilson
, 56, (IL),
Christina Stab
, 37 (PA),
Violet Haaker
(FL),
Taylor Becker
(WI),
John Reynolds
, 84 (MO) and Jeannette (TX).
12/20/10:
Mother Hysterical, "In Shock"
The newest fatal dog attack is being blamed on a rottweiler of at least 150 pounds. The dog -- one of nine dogs in the home -- forced open the back door and attacked the 3-month old girl who was in a baby swing. Authorities said the child's mother, Alva Vaughn, 41, thought she had secured the back door by "sliding a washing machine and slab of marble" behind it before going into the bathroom to bathe the biter's father, a 200-pound rottweiler.
4
Harris County Sheriff's homicide sergeant Felipe Rivera said, "It's a horrible, horrible deal. But a child is dead. Parents have to put the child first, animals later. You have to maintain the child's safety." Rivera added that the scene was chaotic with so many dogs running around. Eight dogs were in the backyard when the attack occurred. Animal control removed all nine dogs -- four rottweilers and three mixed-breeds. The case is being referred to a grand jury.
12/20/10:
Texas Infant Mauled by Dog
Houston, TX - In a developing story, a 3-month old baby died in northwest Houston Sunday after being mauled by the family dog. Harris County deputies responded to the incident. They did not release the child's name or any details about the dog. The child was rushed to Texas Children's Hospital but did not survive its injuries. No charges have been filed by authorities so far. This latest fatal dog attack follows the death of an
East Texas toddler
in November.

View the DogsBite.org Google Map:
U.S. Fatal Rottweiler Attacks By State
1
Glaser is employed by the City of Houston to, "promote and protect public health and animal care," not to defend dangerous dog breeds.
2
While these occurrences are tragic, they are not accidental.
3
At the time of Violet's death, Lori Haaker only had 4 dogs on the property, but Haaker was an established breeder operating the Dream Bulldog Ranch.
4
News continues to unfold in the fatal mauling of Jeannette Vaughn. Click2Houston.com and KHOU.com are reporting that authorities do not know which of the rottweilers killed the baby. They also upped the family's dog count from eight to nine.
Related articles:
10/25/10:
2010 Fatality: "Very Loving" Pit Bull Kills Baby in Jacksonville Home
04/15/10:
2010 Fatality: Pit Bull Kills 7-Day Old New Port Richey Boy
02/24/10:
2010 Fatality: 5-Day Old Infant Killed by Family Pit Bull
08/18/09:
2009 Fatality: Infant Killed by Pet Pit Bull in Hardy County
Labels: 2010 Dog Bite Fatality, Fatal Rottweiler Attack, Harris County, Newborn Fatality, Texas

Please donate to support our work
DogsBite.org is a 501(c)(3) tax-exempt public charity organization. Learn more »
posted by
|
permalink
|
10 comments
|

email
|

blog rss
|

comment rss

10 comments:

cravendesires | 12/20/2010 3:41 PM | Flag
it's impossible to muster up any sympathy for the parents of these kids.

truthbird | 12/20/2010 4:52 PM | Flag
8 big dogs and a baby. She's probably going to jail. The Chronicle did not have much sympathy for her either. At what point does the madness stop? I imagine the Grand Jury will indict.

. | 12/20/2010 6:33 PM | Flag
I find it interesting how people that are pro more powerful or inherently dangerous dogs are inclined to believe that things like this were somehow of the victims fault.

The point still stands, that if pits and rots are such great with small children, why do they have the highest maul and kill rate with them beyond any other breed?

Which reminds me, I think you may enjoy this:
http://bsliscommonsense.blogspot.com/2010/12/comments-your-breed-is-next.html

truthbird | 12/20/2010 8:50 PM | Flag
"The child's parents keep nine dogs in their back yard, including rottweilers, Chows and large mixed-breeds, investigators said."
---
The GJ is not going to be kind.
http://www.click2houston.com/news/26198874/detail.html

Bagheera Kiplingi | 12/20/2010 9:57 PM | Flag
People who push heavy appliances like washers and dryers in front of a door to secure a dog. KNOW the dog is dangerous.

A total of nine dogs, one was being bathed and they don't which of the other eight killed her? This sounds fishy. Wouldn't the one who had killed the girl, have blood evidence or maybe that's why it was being bathed?

truthbird | 12/20/2010 10:44 PM | Flag
It's yet another fishy, fatal dog attack scenario. But, it's going to get REAL fishy if Harris County officials crack this one up to be another tragic accident and sweep it under the rug. The Texas Department of Family and Protective Services is known to take heavy-handed actions when the child is still living. This child is dead and was apparently the only child of the parents.

maultalk | 12/22/2010 2:09 AM | Flag
I don't know how much time it takes to care for 9 large rottweiler dogs. I don't really want to imagine it either. The story is clear enough without imagining it. "Barricade" yourself and baby into the house, along with a 200lb rottweiler shut into the bathroom that you are giving a bath to. All is happy and well for the household with 9 large rottweiler dogs and an infant -- at least for a moment. One person with an infant could never manage such a household. Sadly, the mother was tending to one of the dogs instead of her own baby when it was horribly mauled to death.

Don B. | 12/22/2010 9:56 AM | Flag
Dogs are replacable.

Kids are irreplacable.


Why people keep dogs around, which have previously shown signs of aggression, baffles me. The elderly woman in Iowa recently killed knew her GSD was aggressive. The family in Houston seems to know that the Rottweiler was "an outdoor dog" not allowed to be in the home. I wonder why? Guaranteed they know which dog "aint right" and did this. Why tolerate aggressive dogs in or around the home. Again, dogs are replacable, kids aren't.

Opalina | 12/23/2010 10:27 AM | Flag
Bagheera, I agree with you. It sounds way too fishy. I can't imagine that if one of those other dogs forced its way into the house that it didn't make a huge racket that surely she would have heard. And who washes a 200 pound dog in the bathtub? And why would she have to put such huge things in front of the door to begin with? Had these dogs already broken into the house before and damaged the door so badly that it couldn't be secured? It is just a disgusting and sad situation all around. I feel bad that I, too, have little sympathy for this mother.

PitBullPushers | 12/24/2010 11:34 PM | Flag
When it is mentioned that she was interacting with the "father" of one of the other dogs, I think we all see just where the problem here lies.

This was some kind of illegal breeding business, operated in plain sight in a community without decent animal control laws, without enforcement by Chris Glaser, without proper rules for businesses (particularly those that affect the public health-wise, as dogs can attack and also can carry disease. Breeders, just like shelters and rescuers, need to be licensed and follow some basic civilized rules to prevent danger to humans.)

By allowing her to pack this small place with large aggressive dogs that she could not care for, and by allowing her to conduct an illegal business and not pay taxes, Chris Glaser of Animal Control and those who hire him helped set up this situation and pave the way for this needless death.

We are a society. We need ground rules. These dogs could have easily killed a neighbor's child.

If there had been some community rules, and proper enforcement, no one would have gotten hurt or killed.

Animal control (and the leadership of this town) has failed massively.

There needs to be some kind of control in "animal control" to protect the safety of the community and prevent animal abuse.