Friday, January 9, 2009
Two People and Dogs Attacked
Anaheim, CA - There has been another fatal pit bull "stabbing" by a citizen under attack. Yesterday it was reported that a retired Marine was forced to stab a pit bull to death when the animal viciously attacked him and his wife as the couple walked their two dogs. The attack involved only one pit bull but two people and two dogs were injured, and at least six people were fighting the dog off before it was stabbed to death by the husband of the woman under attack. (
See slide show
that depicts the couple and their dogs.)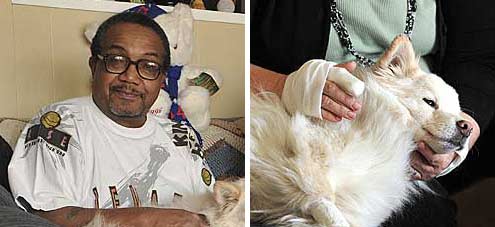 From left: Doug Perry and his dog named Buster.
Retired Marine Doug Perry, who stabbed the pit bull, and his wife Vicki said the pit bull latched on to the throat of their 8-year-old Siberian Husky, "Sierra," then turned on their small American Eskimo named "Buster." Neighbors apparently poured out onto the street. Motorists pulled over, as well, all trying to get the pit bull off the small dog. Perry initially beat the dog with a stick, which eventually shattered. Then he tried using a pipe, which was also unsuccessful. "[The dog] still wouldn't release," he said.
Someone said, "Get a knife," and that's exactly what Perry did. He ran into a nearby home where a resident gave him a large kitchen knife. "So I took the knife and I stabbed the dog one time, and he still wouldn't release," he said. Doug had to stab the dog a second time before it finally released Buster, and then died. Unfortunately, the Perrys had to experience the
tenacity of a pit bull attack
first hand: Once a pit bull starts an attack, it's nearly impossible to get the animal to stop. Doug later told reporters:
"I always thought that maybe [pit bulls] were getting kind of a bad rep at one point, but this kind of changed my mind...I don't think pit bulls should be allowed for anyone to have. They are not a pet."
The Perry's veterinarian bills have already topped $2,100 -- money that they've had to take from an account intended to fix up their home.

Related ZUPF video
Related articles:
01/03/08:
Carson City Teenager Stabs Attacking Pit Bull to Death
09/12/08:
Boy Scout Stabs, Kills Pit Bulls Attacking Friend's Dog
Labels: U.S. Marine Corps, Zupf Video

Please donate to support our work
DogsBite.org is a 501(c)(3) tax-exempt public charity organization. Learn more »
posted by
|
permalink
|
4 comments
|

email
|

blog rss
|

comment rss

4 comments:

Anonymous | 1/10/2009 12:42 AM | Flag
Breeding powerful, escape prone and explosively dog aggressive dogs is amoral and grotesque.

Anonymous | 1/10/2009 1:57 AM | Flag
Murdered yellow lab blog from 2004:

http://www.pbase.com/littleflurry/marty_life

Anonymous | 1/10/2009 12:10 PM | Flag
Ooo-rah Mr. Perry! Well done, sir.

Felony | 1/11/2009 1:19 AM | Flag
Good Job Mr Perry but next time you go for a walk, please take a weapon with you.