Saturday, November 29, 2008
Dade County, FL - In what may be one of the earliest recorded cases of an adult fatally attacked by dogs in the U.S., Doretta Zinke was brutally killed by a pack of pit bulls May 16, 1945. Headlines of the grisly attack covered hundreds of newspapers. Florida authorities were horrified by the attack. They acted fast by arresting the owner of the dogs, Joe Munn, and killing the dogs. These events occur 10 days after Germany surrenders unconditionally in World War II.
Death due to a violent pit bull attack was widely known by Americans in 1945.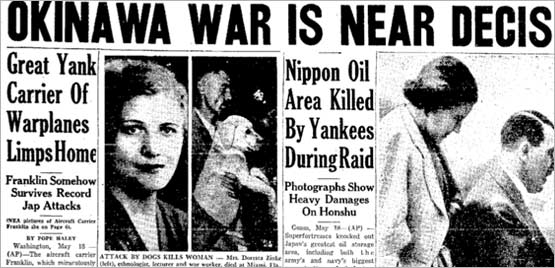 From left: Doretta Zinke, 39, lecturer and Joe Munn, 43, dog breeder.
05/18/45:
9 Dogs Attack and Kill Woman
Miami, Fla., May 17, -- (AP) -- Federal, state and county investigations were launched today Into the death of Mrs. Doretta Zinke, 39-year old lecturer and war defense plant worker, who died within 90 minutes after a mass attack by nine bull pit terriers.

Joe Munn, 43, of Hialeah, owner of the dogs, was subjected to lengthy questioning in the Dade county Jail where he is being held on a charge of manslaughter.

Leon Shaffer of the state attorney's office, said he had found "several discrepancies" in Munn's story of the strange episode -- believed to be one of the few recorded cases of an adult human being fatally attacked by dogs.
Stripped Nude by Attack.

Terribly mutilated from head to foot but still conscious, Mrs. Zinke was found at 8 o'clock last night by two army air force enlisted men. She was lying, stripped nude by the attack, in a lonely field near the army transmitter station outside Miami Springs.

"Dogs! Dogs!" the woman whispered when the soldiers asked what had happened.

Mrs. Zinke, whose husband is said to live on Long Island, N. Y., retained consciousness long enough to dictate a will leaving everything to her son, Sergeant R. M. Zinke, who is stationed at Mitchel Field, LI. Constable W.M. Hudson of Dade county said he had found stocks and bonds worth at least $20,000 among the woman's possessions.
Dogs Held in Pound.

Questioned about the dogs today, Munn was quoted by police as saying: "They are a bad strain. They must be destroyed." Tonight the dogs accused of the brute killing were held in the Miami pound awaiting their fate.

Police said it was not immediately known whether Munn customarily permitted the dogs to roam at large in the fields, but declared several complaints had been lodged against the owner on charges that his dogs had attacked children.

Police Justice Henry L. Oppenborn set a bond of $5,000 for Munn and ordered a preliminary hearing for him tomorrow. An autopsy was also ordered on the victim's body.
Associated Press, "9 Dogs Attack and Kill Woman," Joplin Globe, Joplin, MO, May 18, 1945.
05/19/45:
Dogs That Killed Woman Are Shot

Miami. Fla., May 18. -- (AP) -- A pack of 26 bull pit terriers, some just two months old, paid with their lives today for the fatal attack by nine of the dogs on Mrs. Doretta Zinke, 39 years old. globetrotting lecturer, here last Wednesday.

Constable W. M. Hudson of Dade County did an examination of the stomachs of four of the terriers revealed the presence of "balls of human hair, unquestionably belonging to a woman."

Pieces of leather, identified as parts of a woman's shoe, were found in the stomachs of other dogs in the pack which set upon Mrs. Zinke and terribly mutilated her in a mass attack.

It was not necessary to get a court order to carry out the execution of the entire pack of dogs. Owner Joe Munn, 43, of Hialeah, who cried "Oh, my God!" when he saw what his terriers had done, willingly gave permission.
Barked and Snarled.

"They are a bad strain, they must be destroyed," he told police.

Fifteen of the older dogs were shot. The dogs barked and snarled, but made no attempt to attack the executioners.

Eleven small puppies were removed in a big clothes basket to a Miami veterinarian's gas chamber and put to death. Meanwhile, the humane society received hundreds of telephone calls from people asking that the society intervene in the killing of the animals.

Humane officials said they were carrying out the order of authorities who with disinterested veterinarians deemed the dogs of the "most vicious type." Prior to the attack on Mrs. Zinke, they had been accused of attacking other people within the past week.

Munn valued his kennel at $1,000. He said he bred the dogs to sell and denied they had been used for pit fighting.

Munn remained in the county jail under $5,000 bond on a warrant charging manslaughter. An inquest has been set for Monday. County Prosecutor Robert Taylor said he would decide what to do after weighing the evidence.
Associated Press, "Dogs That Killed Woman Are Shot," Joplin Globe, May 19, 1945.
The confusion of the "pit bull" name is evident as early as 1945. The dogs are called: pit bull terriers, bull pit terriers, pit terriers and bulldogs throughout the various articles. Part II will cover the trial of Joe Munn, which takes place one week after the fatal attack.
Related articles:
12/29/08:
Part III: Doretta Zinke, 39, Killed by 9 Pit Bulls (1945)
12/07/08:
Part II: Doretta Zinke, 39, Killed by 9 Pit Bulls (1945)
11/29/08:
Part I: Doretta Zinke, 39, Killed by 9 Pit Bulls (1945)
Labels: 1945 Dog Bite Fatality, Doretta Zinke, Fatal Pit Bull Attack, Florida, Historical Fatal Pit Bull Mauling, Miami-Dade County

Please donate to support our work
DogsBite.org is a 501(c)(3) tax-exempt public charity organization. Learn more »
posted by
|
permalink
|
18 comments
|

email
|

blog rss
|

comment rss

18 comments:

Anonymous | 11/29/2008 6:02 PM | Flag
But- but - but -- Petey!
Our old standby Petey!
The one dog pitters Always bring up as the perfect pit!
Remember Petey??
Petey, the pit bull on Lil Rascals...
he was.. he was.. great?
Everyone loved him, right?

http://www.tvparty.com/50rascals3.html
"Even the first Pete the dog was poisoned by an unknown assailant."
oh...
Never mind.

Anonymous | 11/29/2008 9:39 PM | Flag
Even then these dog fighter breeders were covering it up and saying "oh, I just breed the dogs to sell."

annod | 11/29/2008 9:57 PM | Flag
"Meanwhile, the humane society received hundreds of telephone calls from people asking that the society intervene in the killing of the animals."

Wonder what all of those HSUS hating pit nutters will think about that?

David | 11/29/2008 10:30 PM | Flag
I'd bet 90% of these people never saw an episode of the "Little Rascals"

jimmy o | 11/29/2008 10:34 PM | Flag
Great Find!

Curious as to why the Queen of Dog Attacks did not include this atrocity in either of her books.
Delise conveniently covers 1965-2001 in Fatal Dog Attacks and 1864-1899 and 1960-1975 in The Pit Bull Placebo.

Felony | 11/29/2008 11:21 PM | Flag
Aaah, the good old days when our criminal justice system actually had balls.

May 16th Dog attack
May 17th Investigation launched
May 18th Dogs lined up in front of a firing squad &
dog owner charged
And the following week, the trial takes place.

What happened? Where did we go wrong? Why are the police and the courts now an extension of social work?

Felony | 11/29/2008 11:23 PM | Flag
And it is equally sad and frustrating to see that the HSUS has NOT changed.

Anonymous | 11/30/2008 2:33 AM | Flag
Felony, the big problems are groups like Best Friends, ASPCA

Anonymous | 11/30/2008 2:59 AM | Flag
Whats interesting is how they culled the "Maulspawn"... We see many fatalities (Tanner Monk) with pups involved, yet the safety of adopting out the pups from a killer bloodline is never addressed.

Wonder how many pups Joe Munn sold and if Munn genes are still floating around in the pits of today?

Anonymous | 12/01/2008 1:45 PM | Flag
Tommy Bond, who played Butch in Lil Rascals, once spoke on an interview how they all hated Petey, and he did bite.
He said Alfalfa especially hated Petey.
Pit Bull People who cite Petey seems to fail to understand that filming is done in takes, and the outtakes, such as bites, are left of the cutting room floor.
Pete was originally picked because he was born with a three-quarter ring around his eye, no other reason.
There were several Peteys. I guess after a bite, they would just circle another dog's eye, toss him on the set, and hope for the best.
Pete is a poor example once researched.

Anonymous | 12/01/2008 4:39 PM | Flag
I always preferred Gentle Ben more based on sheer acting ability. I've always bore stigma for not being able to buy a black bear cub for $50 at a Walmart parking lot.

Anonymous | 12/01/2008 6:22 PM | Flag
I want a bear cub, too!
Discrimination!

Anonymous | 12/01/2008 7:08 PM | Flag
Many of the shots with Petey are closeups done away from the kids

This dog didn't live with these children and interact with them. The dog was nothing more than a prop

jimmy o | 12/02/2008 12:15 AM | Flag
PLEASE PLEASE PLEASE post the source of the Pete the Pup information.

Anonymous | 12/02/2008 4:32 AM | Flag
The Tommy Bond interview was on, I believe, American Movie Classics channel when his book first came out.
I'll have to try to find it.

ernie | 12/02/2008 4:27 PM | Flag
The truth behind another famous pit bull that nutters prop up as great family dogs:

A DOG'S HISTORY OF AMERICA by Mark Derr
P 244
Of course, Roosevelt romanticized Sailor Boy and dogs in general, forgetting Pete-variously identified as a bulldog or a bull terrier-who terrorized the White House between 1905 and 1908. He caused an international incident in 1905 when he treed the French ambassador, Jules Jusserand, who had come to play tennis with the president. Many contemporary accounts claim that Pete chewed a hole in the ambassador's pants at a reception, but that was not so. He tore the pants and flesh of a naval clerk, John T. Thomas, on May I I, 1907, just ten days after his return from an eighteen-month exile after the Jusserand affair. At the time, Pete had been assigned to help the police patrol the White House grounds at night-specifically, it was said, to hold at bay the reporters who staked the place out, observing and questioning visitors.

Robin | 8/02/2010 6:42 AM | Flag
Doretta Zinke was my grandmother who I never knew. My father, her son, is dying of Alzheimer's disease. Unfortunately, he remembers fragments of a life lost. He told me about his mother and left out the details of her death. I would like to address various comments: The "Little Rascals" and Petey were make believe. I hope you understand the difference between Hollywood and real life. I have a crystal clear understanding of the brutality of a vicious dog attack and the profound lonliness of an only child left behind. Certain breeds of dogs are dangerous, specifically, pit bulls, however, a sigificant factor is how they are raised. Despite the enormous loss experienced in my own family, I truly believe people are to blame. I have worked in the legal community all of my life & understand the difference between justice & the law. There are responsibilities associated with raising children, animals and crops. One bad decision can result in a lifetime of consequences. Choose wisely.

Stephen | 8/24/2014 12:07 PM | Flag
End the Breed - Do not bake the bread.
T-Rex is extinct and it has worked well. Nobody dead from a T-Rex in the last 30 years.