Wednesday, December 3, 2008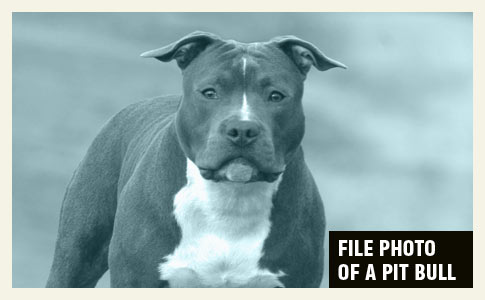 Alexander Adams, 2-years old, was killed by his family's pit bull-mix.
Case Concludes
UPDATE 12/03/08:
Police spokesman Bill Cassell could offer no theory as to why the family pit bull killed Alexander Adams. The boy's grandmother was walking with the dog's food bowl into a room where the dog was normally fed. The toddler followed and was attacked, he said. "While it's possible that the presence of food, combined with the young victim in the area where the dog was normally fed, triggered the attack, there is nothing definitive that can be determined," Cassell said.
11/28/08:
Dogs Described as Pit Bulls
In an updated report, the
Review-Journal
reiterated again that police spokesman Bill Cassell described the dogs as part pit bull and that possibly both were involved in the deadly attack. The dogs "were at least pit bull mixes," he told the
Journal
. It is important to point out that pit bull owners and animal control departments
will intentionally mislabel
pit bulls as boxer-mixes, lab-mixes and other mixes in order to "protect" the breed after serious and fatal maulings.
A police spokesman, Officer Bill Cassell, says investigators might never know what triggered the Nov. 26 attack at a house in northwest Las Vegas.
But he says it happened after the boy followed his grandmother into a room where the pit bull or pit bull mixed breed dog was being fed.
The boy was fatally mauled and the grandmother suffered minor injuries.

- Associated Press, December 3, 2008
11/27/08:
Second Death in Clark County
Las Vegas, NV - In a developing story, a 2-year-old boy was fatally attacked by at least one dog at his home on the 6200 block of Warm River Road near Washington Avenue. Las Vegas police spokesman Bill Cassell said the boy and his younger brother were being taken care of by their grandmother when the child was fatally bitten. Cassell described the dogs as "
mix-breed terriers
" and that the dogs also might be a "type of pit bull pit bull" weighing between 40-45 pounds.
On September 12, 4-month-old Cenedi Kia Carey was fatally mauled by her family's two pit bulls in North Las Vegas. In that deadly attack, the child was also under the care of her grandmother.
Related articles:
10/07/08:
2008 Fatality: Infant Dies After Being Mauled in Waianea
10/06/08:
"Mixed Breed," a Typical Animal Agency Cover Up for a Pit Bull?
09/18/08:
Video: Cenedi Kia Carey, 4-Months Old, 911 Tape
09/18/08:
2008 Fatality: Pit Bulls Fatally Maul 4-Month Old in Las Vegas
Labels: 2008 Dog Bite Fatality, Alexander Adams, Clark County, Fatal Pit Bull Attack, Nevada

Please donate to support our work
DogsBite.org is a 501(c)(3) tax-exempt public charity organization. Learn more »
posted by
|
permalink
|
4 comments
|

email
|

blog rss
|

comment rss

4 comments:

Anonymous | 11/27/2008 4:45 AM | Flag
Ungh....Every 20 days....

Same scenario as the last Las Vegas death...Grandmother watching the child.

Anonymous | 11/27/2008 5:03 AM | Flag
Old story about the Las Vegas Pit Bull Black Market:

http://www.klas-tv.com/Global/story.asp?S=6499332

Anonymous | 12/03/2008 1:55 PM | Flag
It's very, very common that food is a trigger for aggression," Hauser said.

Doogie must have gone to the Jim Crosby school of dog behavior...Food aggression merits a nip or a chomp...Not a full blown Level 6 Fatality!

These people clearly have lowered safety expectations.

Anonymous | 3/03/2009 2:57 AM | Flag
Go to any of the L.V. "animal rescue", facilities, and every one of these dogs (pitbulls) has a sugar coated cutsie name in the space provided to identify the breed. I've seen Boxy bull, Bully mix, and Pitty cross in an attempt to fool the public into taking one of these dogs home as an addition to the "family". The laws in Nevada, regarding these animals, are almost non-existent. Nevada is the only state in the union that still has no law in place to out law dog fighting.