Friday, October 10, 2008
Katya Todesco, 5-years old, was killed by a pit bull-mix while visiting a friend's home.
Police Contradict Initial Statements
UPDATE 10/10/08:
The Simi Valley police did not release information about Katya Todesco until six days after she was attacked and three days after she was pronounced dead. It appears the department failed to follow standard protocol in this matter. When police finally did release the information, they told the
Ventura County Star
newspaper:
"Police Capt. Roy Jones said animal control was the agency investigating the fatal attack, and that police did not report it partly because they did not find any criminal conduct in the matter and wanted to be sensitive to the grieving parents."
Last week, DogsBite.org sent a letter to the Mayor, City Council and Police Chief of Simi Valley requesting an investigation. It appears that police and animal control departments failed to follow customary practices in the investigation of a wrongful death. This includes, but is not limited to, the failure to follow standard protocol in releasing press announcements about the wrongful death and the early indications of a fatal pit bull mauling.
On October 9th, the
Ventura County Star
reported that the police reversed its earlier statements. The police now say that "during the early stages" of the investigation -- prior to making statements to the media -- they immediately expanded their investigation to determine if criminal culpability was involved. This statement is in direct contrast to the department's earlier "reasoning" of not issuing a press announcement in the first place.
"Information obtained during the early stages of the inquiry into this incident resulted in an immediate expansion of this investigation to determine any criminal culpability by the person(s) involved," police said in a news release.
Various Simi Valley residents have contacted DogsBite.org since the death of Katya Todesco. They have many questions and concerns just as we do. We recommend that these residents
contact city council members
and ask why the fatal mauling of a child was reported so late, why the police issued conflicting statements and most importantly -- given that animal control is in charge of this investigation -- why this agency appears to have no role in the confusion.
09/30/08:
Visiting Friend's Home
The pit bull that killed Katya reportedly bit her in the face and neck. Initial reports indicate that Katya lived at the home were the attack occurred, but her mother, Katia Todesco, said the attack occurred at a friend's house. Todesco said her daughter entered the backyard with the friend's 13-year-old daughter, and the dog attacked when Katya "bumped into it."
Todesco was inside when she heard screams and ran out to find her friend wrestling with the dog, which had latched onto Katya, she said. "It was a horrible attack," Todesco said. "With my own hands I was pulling the dog's jaw." According to county Animal Regulation Director Kathy Jenks, after the attack, an official went to the home and found the dog in a kennel.
Katya was a first-grader at Crestview School in Simi Valley. "She was an extraordinary girl fun, loving and just a beautiful girl," her mother said. "We are devastated." Strangely, she said she doesn't blame anyone for the attack. "It was a terrible accident that should never have happened." She said the dog belongs to someone other than her friend, who was taking care of it.
On the night Katya was attacked, a different pit bull killed another dog on Lysander Avenue in Simi Valley, and yet another pit bull bit a woman on her legs on Ballard Street, Jenks said. Both dogs were taken to the animal shelter, and the owner of one immediately agreed to have it destroyed. Simi Valley police did not report any of the attacks to the media.
During the 2007-08 fiscal year, 117 pit bull bites were reported to county animal control, the most of any breed. A total of 1,185 dog bites were reported in that period. Then the article quotes Jenks again. In her following statements, she attempts to excuse this breed's horrific conduct since the mid 1980's -- if only she could make a couple hundred deaths and countless maulings vanish.
Jenks, however, said pit bull attacks are reported much more frequently than those by other breeds of dogs.
Jenks and officials from the Humane Society of Ventura County said the lesson is that it's not safe to leave young children with any breed of dog.
"The greatest myth we have perpetuated in this county is that children and dogs belong together," Jenks said. "Dogs, no matter what breed, do not see children as humans."
If all dog breeds did not see children as humans, how many dead children would be reported every 24 hours?
Jenks is clearly a pit bull apologist
. Even in the wake of a 5-year old's face getting ripped off and killed because she "bumped into" the dog, the director of the Ventura County Department of Animal Regulation would have the public believe that dogs of all breeds are as deadly as pit bulls.
09/29/08:
Mauling Victim Identified
The victim was identified as Katya Teresa Todesco, said Los Angeles County Coroner's spokesman Capt. Ed Winter. She was reportedly in her back yard when the dog attacked. Kathy Jenks, director of the Ventura County Department of Animal Regulation, said dog lived at the home but belonged to a man who did not live there. The dog is being held in quarantine by the animal regulation department during the investigation, Jenks said. It will likely be euthanized.
09/28/08:
Child Dies Due to Injuries
Simi Valley, CA - A 5-year-old girl who was bitten by her family's pet pit bull last week has died. The attack happened on September 23, at the girl's home on Appleton Road in Simi Valley, said Lt. Paul Fitzpatrick of the Simi Valley Police Department. After she was bitten, the girl was transported to Simi Valley Hospital then transferred to Children's Hospital Los Angeles, Fitzpatrick said. The girl died at the hospital Friday. No action has been taken against the child's parents.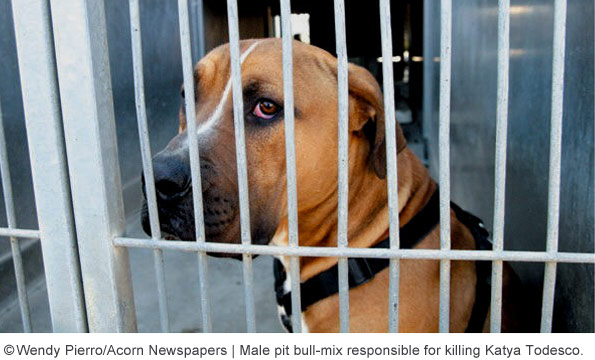 Related articles:
11/07/08:
Kathy Jenks, Director of Animal Services, Stands Before City Council
10/22/08:
Nominated: Pit Bull Apologist of the Year, Kathy Jenks
Labels: 2008 Dog Bite Fatality, California Pit Bull Fatality, Fatal Pit Bull Attack, Katya Todesco

Please donate to support our work
DogsBite.org is a 501(c)(3) tax-exempt public charity organization. Learn more »
posted by
|
permalink
|
18 comments
|

email
|

blog rss
|

comment rss

18 comments:

Anonymous | 9/30/2008 4:11 AM | Flag
RIP Katia...Let's hope the investigation looks into who bred and sold this mankiller.

Anonymous | 9/30/2008 4:47 AM | Flag
Gotta wonder if the dogmen of Stafford envisioned these bloodsport creatures being kept as pets and killing/disfiguring children as they performed the dirty work of creating this breed?

Anonymous | 9/30/2008 5:36 AM | Flag
Update:http://www.venturacountystar.com/news/2008/sep/30/simi-valley-girl-5-dies-after-backyard-attack/

Notice that Pit Bulls are the leading biters in Ventura County. In nearly every location that tracks bites by breed, pit bulls ARE THE LEADING BITER...The exact opposite of what the Pit Bull Community claims. Regulate NOW!

Anonymous | 9/30/2008 3:08 PM | Flag
One of the comments from the article:

Yes I do have information in regards to the Lysander attack. It was at my Moms house. I did post above to what happened. Again I will say, She opened (my mom) her front door and put her baby gate there so her 2 little yorkies could not get out. A pit bull was being walked with no leash and by children. The angry vivious pitbull ran up to my Moms porch broke down her baby gate ran into her house and killed her little Yorkie Tinkerbell. My Mom is traumatized about what happened in her home. She was there alone and was trying to stop the pitbull all by herself. Lucikly my Mom has only a samll bite wound on her leg as well as bruises and cuts. My heart goes out to the family that lost there little girl, what a horrible tradegy. I am in hopes that my Mom as well will be okay. Tinkerbell was her baby and to see her slaughterd like that in My Moms own home is something I am sure she will not get over anytime soon.

Anonymous | 10/01/2008 5:00 AM | Flag
How would Jenks know if people reported pit bull attacks more often than other attacks, given that these "other" attacks were not reported to begin with? She's already admitted that pit bulls bite more than any other breed in the county. She needs some type of DogsBite nomination...maybe "Top Pit Bull Apologist at the Sake of Public Safety" will do.

Anonymous | 10/01/2008 5:26 AM | Flag
http://www.vcar.us/

Ventura county bite stats:

Pit Bulls number one biter(117), number one impound(1260), 8th in registrations.

Surprisingly, Chihuahuas are the number 2 reported biter(115). So much for the not reporting crap!

The breed most likely to be thrown under the bus by pit nutters, the Cocker Spaniel, produced 22 bites despite being number 6 in registrations.


The pit bull issue is not only one of public safety but a fiscal one as well. In most places they consume the lion's share of A/C resources with lower registration numbers. They ain't paying their way!

Jenks has some splainin' to do!

Anonymous | 10/01/2008 6:01 AM | Flag
A "ProMauler of the Year" Award is a great idea! Seeing that the A/C community won't police themselves....

Anonymous | 10/01/2008 6:44 AM | Flag
Those crazy, biting, raging Cockers! 22 bites versus 117? LMAO!!!!!!!!!!

Anonymous | 10/01/2008 5:13 PM | Flag
Comment from a neighbor:

From a neighbor


This lady was not watching this dog....it had been there for over 3 mos.....it also mauled one of her chihuahuas and killed it just recently....so the story is not completely true!! The little girl dropped her cell phone next to the dog....she went to pick it up and the dog attacked her......so NO THE STORY is INACCURATE.....again, protecting the owners!!!! and not the little girl!!!!
Posted by A NEIGHBOR at 12:52 pm Oct 01, 2008


MALICE!!!!!!!!!!

wealthy | 10/01/2008 6:36 PM | Flag
KATYA MAY YOU REST IN PEACE.
THIS IS A REALLY SAD INCIDENT, I KNEW KATYA SHE WAS A SWEET LITTLE GIRL, AND IT MAKES ME ANGRY HOW PEOPLE R PROTECTING THE DOG(THE MONSTER) I THINK THIS DOG SHOULD BE DESTROY AND THE OWNER HAS TO BE CHARGE AND DON'T TELL ME THAT NO ONE KNOWS WHO THE OWNER IS BOLOGNI! THAT LADY HAS TO BE THE OWNER, I AM TIRED OF THIS KIND OF OWNERS OF THIS KIND OF DOGS OR ANY DOG, I HATE TO GO OUT AND TAKE A WALK HERE IN SIMI CAUSE THERE ARE SO MANY TIMES I SEE A LOOSE DOG OR NEIGHBORHOOD HOUSES WITH PITBULL AND NOT TIED UP! THE LAW BETTER GET REAL STRICKED ABOUT OWNING THIS KIND OF DOGS!!!!!!!!!!!!!!!!!
AND TO YOU PITBULL OR DOG LOVERS SAVE YOUR COMMENTS! I DON'T LIKE THIS KIND OF DOGS PERIOD, AND THIS IS NOT ABOUT PROTECTING THE DOG THIS IS ABOUT KATYA'S LIFE BEING TAKEN!!!!!!!!!!!!!!!!!!!!!!!

Anonymous | 10/03/2008 1:08 AM | Flag
Why is animal control/police protecting pit bulls, and ultimately protecting the dog fighters and breeders?

Did they refuse to report to protect the pit bulls' "reputation?"

This dog should have been deemed dangerous when it killed the neighbor's dog. That is how dogs that kill children start- they attack other pets.

By failing to act, this AC Jenks set the stage for this girl's death. He has some blame for this.

And it is a disgrace that Jenks is blaming the victim.

Pit bulls are bred to be aggressive, they have a high prey drive, and unless animal control deals properly with dangerous dogs, then Animal Control is ultimately to blame for the deaths.

I would hope that this girls' family has an attorney who will go to the source of the problem- an Animal Control officer who failed to do his job and protect the public.

His failure led to the death of that poor girl.

Anonymous | 10/03/2008 3:42 AM | Flag
Kennel Blindness is real, and the average shelter worker last less than two years on the job due to the stress of working around so much suffering and death.. This woman has made it 36 years and put down nearly 800 pits last year.

Instead of pushing for a solution, she has turned the shelter into a tax payer funded Pit-rescue/Advocacy center. Due to the blindspot most people have for dogs, she gets away with it.

It wouldn't surprise me at all if this Pit actually passed through the system once and the smokescreen is CYA tactics.

Anonymous | 10/10/2008 3:10 AM | Flag
Looks like responsible individuals at SIMI VAlley PD are taking over the investigation...May justice be served.

Anonymous | 10/10/2008 4:59 AM | Flag
Indeed! Now if they can only point the finger at Animal Control, who was supposed to lead an adequate investigation to start with.

Anonymous | 10/14/2008 4:43 PM | Flag
JENKS: A history of DISMAL pit bull apologies
"We are not monsters. We were trying to help an animal that couldn't get placed," said C.C. Ebert, who adopted the pit bull from the Ventura County Animal Shelter in August. The dog, which had come to the shelter as a stray, had passed a temperament test, according to Kathy Jenks, director of Ventura County Animal Regulation. Blue's ears, however, were cropped in a style associated with fighting dogs.

The dog attacked AGAIN of course...thanks to Jenks.

http://www.venturacountystar.com/news/2007/may/06/pit-bull-attacks-lead-to-investigation-someone/

Anonymous | 10/14/2008 7:13 PM | Flag
More shenanigans from JENKS:

Pit bull mauls neighbor's dog
Kathy Jenks, director of the Ventura County Department of Animal Regulation, said the police allowed the owner to take the dog home and animal regulation officers later spoke to the owner about allowing it to roam the neighborhood unleashed. Jenks said because the dog, which was licensed and had upto-date vaccinations, was tied up when her officers arrived, the owner was not cited for violating the city's leash law. The owner had been cited for a previous leash-law violation, she said...

The victim's husband, David Migocki, said:

"We have to have our throats ripped open because the pit bull has rights. . . . I personally am outraged that this can happen," Migocki said, later adding that the rights of the animal owner seemed to supercede his.

http://www.thecamarilloacorn.com/news/2007/0511/pets/023.html

Tiffany Hampton | 8/28/2009 11:15 AM | Flag
This article makes me so sad and angry at the same time.

I think you have a really good blog, You should network with the moms in the bizymoms Simi-valley community.

Tracey Lampson | 9/09/2017 4:33 PM | Flag
What a beautiful girl we have lost!
Please remember her❤️❤️❤️
Love Tracey