Saturday, August 23, 2008
Letter Carrier Support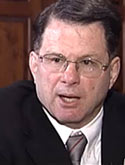 UPDATE 09/03/08:
A letter carrier offered his support of Skeldon. He writes, "[Skeldon's] expertise and training has helped many a carrier stay out of harm's way. " He also mentions the smoking gun video played in the
Toldeo v. Tellings
hearing. "We have seen video of pit bulls that were sedated but still holding on to an object with their locked jaws."
Once you've seen the video you won't have any doubt about a pit bull's jaws. The dog was so sedated it was unconscious, and it still held onto the wire as it hanged in mid air. We hope to get it online for you one day. Steve Cherry, the letter carrier, also notes another powerful attribute of Skeldon's. "Some may not find Tom politically correct but none will ever find him neglecting the safety of the public."
As a letter carrier for the last 15 years, I am glad we have Tom Skeldon as the dog warden of Lucas County.
Tom visits each station once a year in the spring and shares his insights and wisdom on how to protect ourselves from a dog attack. His expertise and training has helped many a carrier stay out of harm's way. His office responds to our calls in a timely fashion, sending a crew out immediately if it is a serious case.
We have seen video of pit bulls that were sedated but still holding on to an object with their locked jaws. While any bite is serious, the pit's can be fatal or devastating.
Tom trained dogs in Vietnam for the Army, so he knows first hand the nature of dogs. He has also witnessed the destruction they can cause.
Some may not find Tom politically correct but none will ever find him neglecting the safety of the public. I hope these groups that want him removed can come to a compromise and work out their differences without over reacting and going to extremes, which it seems they have.
I can say with certainty that Tom has the carriers' vote of confidence.
- Steve Cherry, Oregon
08/23/08:
Dog Bite Attorney Supports Skeldon
Dale Emch is a Toledo-based attorney. He also writes The Blade's Legal Briefs column and previously worked as a reporter and editor at The Blade. Emch recently wrote a piece that supports Skeldon. It is exceptional. Emch nails the true gunners after Skeldon too: "pit-bull fans who make money by fighting or breeding the dogs." Here is the editorial by Emch in part:
Mr. Skeldon deals with the fallout from pit bulls every day. He's seen the injuries caused by these dogs and also has seen how they've become the dog of choice for dope dealers and gang bangers. In 1993, his office seized 50 pit bulls. In 2007, that number climbed to 1,354.
Given all that, it would be shocking if he didn't take the pit bull problem seriously.
Maybe in that scenario, a petition to remove him from office would be warranted, but not for enforcing Toledo's pit bull ordinance - which the Ohio Supreme Court ruled last year was constitutional.
I'll give the petition organizers the benefit of the doubt that they sincerely believe we should blame the deed and not the breed. I'll assume their motives are pure, albeit misguided.
But since the time I wrote my story about Mr. Skeldon, I've always believed that most of the people gunning for him are pit-bull fans who make money by fighting or breeding the dogs.
And in that fight, I'll side with Tom Skeldon and the other dog wardens throughout Ohio who have the courage to do their duty and tell it like it is.
08/15/08:
Support the Lucas County Dog Warden
Toledo, OH - Tom Skeldon needs your support, and you can give it by leaving a comment at this blog post. Skeldon is the Lucas County, Ohio Dog Warden and the most experienced employee of the United States when it comes to dog law enforcement, particularly pit bull law enforcement. He is currently under fire by a "pet advocacy" group, AKA a pit bull advocacy group.
The City of Toledo, where Skeldon is empowered, does not ban pit bulls, but the city does enforce Ohio State and Toldeo pit bull restrictions. If you put these two together, the restrictions appear as the following: $100,000 in liability insurance; a chain leash and muzzle when off-property; a special containment facility that includes a secure top; and households are limited to owning a single pit bull.
A "pet advocacy" group called 4 Lucas County Pets is demanding that Skeldon be fired. Tamara Ernst, one of the founders, claims Skeldon does not collaborate enough with animal rescue shelters and promotes discrimination against pit bulls by treating them as inherently vicious dogs, "the canine version of racism." (Using the word "racism" in relationship to a dog breed is not supported by the U.S constitution.)
The group has created an online petition and has gathered over 800 signatures so far. One of the comments left reads, "i don't have a dog, although my boyfriend does, and I support this petition." Another says, "This is just humiliating ridiculous. Seriously." The group plans to submit the petition to county commissioners and request a public meeting about Skeldon. The group has yet to set a deadline or signature goal.
Pit bull advocates have flooded the county commissioner's office with complaints about Skeldon. The commissioner said he has received more emails and phone calls from so-called "
constituents
" complaining about the dog warden than any other matter. Emails and online petitions hardly validate senders as constituents. We hope commissioners are not fooled by pit bull propaganda tactics.
Tom Skeldon is a national
hero
to
victims
of serious dog attacks and family members,
plastic surgeons
and doctors,
first responders
,
senior citizens
, parents that desire their children to have full
scalps
and
limbs
and
pet owners
that suffer the wrath of pit bull attacks. We leave you with several golden Tom Skeldon quotes to further emphasize the man's genuis. The first quote directly relates to this pet advocacy group:
"A lot of rescue groups ... don't have a long record of standing. They almost tend to be cults of personality around a few activists."
"Some humane groups have been manipulated by these pit bull factions to where they fight breed-specific legislation using scare tactics like 'your breed will be next.' And for 13 years, their breed hasn't been next."
"Nationally when you talk about maimings and disfigurations and death, pit bulls are so far ahead of the next closest type of dog you can't even see them in the rearview mirror."
"When we go into a drug house, as we do regularly, I do not run into Lassie and Rin Tin Tin. We run into pit bulls."
"[The owners] all think that these pit bulls are nice sweet animals and some of them are, but by the time they get to be a year and half or two years old, they're pretty intent on what they're bred to do and that's grab a hold of things and shake it until it's dead."
Related articles:
07/16/08:
Noncompliant Pit Bull Owners Cited After Lakewood Hearing
05/01/08:
Lucas County Dog Warden Nails Aspect of Pit Bull Problem
12/11/07:
Online Pit Bull Forum Blamed for Skewing Survey Results
02/21/05:
Bulldog Approach to Warden's Job Makes Skeldon a Favorite...
Labels: Ohio, Tom Skeldon

Please donate to support our work
DogsBite.org is a 501(c)(3) tax-exempt public charity organization. Learn more »
posted by
|
permalink
|
15 comments
|

email
|

blog rss
|

comment rss

15 comments:

Doug | 8/15/2008 2:03 PM | Flag
Tom Skeldon has the pit bull issue so well in hand that pit bull whiners couldn't help but lower themselves to another public tantrum.

Good freakin' grief, wouldn't it be nice if they put half as much effort into raising money to help any number of victims made destitute with medical debt, after an attack by pit bulls? Or maybe they could set up a 'Funeral Fund' for all the future victims they intend to help create with their senseless breed promotion.

Anonymous | 8/15/2008 3:02 PM | Flag
I hope the commissioner realizes how effective this man has been. You never hear from the pit bull people
when human beings or other animals are torn to shreds. What can they say? I wish there were many more officers with the knowledge and experience of Tom Skelton..

Russ | 8/15/2008 3:21 PM | Flag
Tamara Ernst states "We need to be doing better for the animals, and that's the core issue here." The real core issue is that we need to be doing better for the humans first, then we can look at the animals. Tom Skeldon is doing just that, putting the safety of the people first. Well done Mr. Skeldon.

Trigger | 8/15/2008 3:46 PM | Flag
Tom Skeldon should be rewarded by the Lucas County Commissioners not scrutinized due to the zealous behavior of pit bull special interest groups. Skeldon has never supported a pit bull ban. Skeldon has always supported the safety of the public by requiring pit bulls to be muzzled when in public.

Skeldon also supports pit bull dogs from bad owners. He doesn't like to see pit bulls chained, pit bulls used in dogfighting (which is a considerable problem in Lucas County) and pit bulls used for other violent reasons. He does not like backyard pit bull breeding either.

Skeldon very much understands the injury caused by the pit bull bite. He does not want innocent victims and pit bull owner victims to suffer these bites which are characterized by "lock and shake" and cause victims severe injury.

Skeldon has done an excellent job in his role as the County Dog Warden and continues to do so. The man should get a PAY RAISE and an AWARD for his service to Lucas County citizens and pets.

muckracker | 8/15/2008 4:06 PM | Flag
i don't think mr skeldon has anything to worry about.

i just spent the last 45 minutes crunching numbers at the petition website:

http://www.ipetitions.com/petition/4lucascountypets/signatures-13.html

here is how it breaks:
out of 650 signatures:
30% are not residents of lucas county
26% of those signatures were left by the not so proud pit bull owner. they either left an incomplete name or signed anonymous.

i did find a few duplicate names as well but that was a little more time than i was willing to invest.

leaves me wondering how many people who actually signed a complete name are in fact residents of lucas county and are in fact real people. we certainly know that these people have a reputation of skewing on line data.

Anonymous | 8/15/2008 5:00 PM | Flag
We don't call them PIT NUTTERS for nothing!

check out this nutter...

http://news.yahoo.com/s/ap/20080815/ap_on_re_us/cloned_dogs_tennessee;_ylt=Av1cIeHq1QhCNZeSorsjUCEEtbAF

blue'smom | 8/15/2008 7:22 PM | Flag
I am suprised the Toledo Blade has given so much attention to this petition. On line petitions are notoriously skewed and this one is a joke. Partial signatures are the rule and many signers have absolutely nothing to say. The proof of residency in the county is yes or no the the question "do you reside here?" Tom Skeldon has worked hard to protect the citizens of Lucas County and is well respected for his work. This petition is just another frustrated rant from the pit bull community.

Anonymous | 8/16/2008 3:35 AM | Flag
Yet another atrocity from a pit bull advocacy group. 4LucasCountyPets seems like an RDOWS rouse with the same Margaret Mead quote. They have positioned themselves as "pets" instead of dogs and added in cats...the disgusting aspect of this is that cats are frequently killed by pit bulls.

The quotes page (Did you see?) is written like a personal vendetta and with the education of a high school drop out. The unsophistication of the group's founders is memorable. God only knows what the following sentence means, "...how about you think about the fact that my four legged mother will probably not stop at your office to pick me up..." (Er?)

The online petition is a farce. Like the other poster, I can't believe the Toledo blade gave these wackos any face time at all. The only interesting aspect is that of commissioner Tina Skeldon-Wozniak. Is she related to Tom Skeldon? That would be a hoot.

Mrs.Poodle | 8/16/2008 11:04 AM | Flag
I think he's doing a great job protecting the animals of Lucas County.

Anonymous | 8/17/2008 5:35 AM | Flag
If anything, Mr Skeldon has bent over backwards fighting for the rights of fighting breed fanciers to own one dog, instead of completely banning them! This is the thanks he gets!

Anonymous | 8/17/2008 5:04 PM | Flag
You know what's really hilarious? If you look at the demographic of the majority of pit bull owners, they are overwhelmingly young, and often uneducated. ( Go into any pit bull forum and read the introductions....most are people in their early 20's, even late teens) We have seen the data on the correlation between owning a pit bull and having a criminal record.

So, how many of you think that the majority of pit bull owners are registered voters? Sadly, young people are notorious for not voting as it is...most do not realize that if you write a letter to your senator, state rep, or even local pol, they usually will check the voting list to see if you are registered, and if you vote in every election. They won't bother answering you if you don't.

I am sure if you checked the names on any pro-pit "petition", the vast majority would not be registered voters. I don't understand why politicians give them the time of day.

Tom Skeldon seems like a good guy who is looking out for his constituents....he is smart enough to know that any squaking from the pro-pit lobby is a tempest in a teapot.

Anonymous | 8/18/2008 8:55 AM | Flag
I am sure the there are a significant number of names that are entirely made up!

Anonymous | 8/23/2008 5:43 PM | Flag
A really good article supporting Tom Skeldon and other dog wardens in Ohio:

http://toledoblade.com/apps/pbcs.dll/article?AID=/20080823/OPINION04/808230309

bitbypit | 8/23/2008 6:58 PM | Flag
Thank you very much, this has been updated.

Packhorse | 7/20/2011 12:01 PM | Flag
"Some humane groups have been manipulated by these pit bull factions to where they fight breed-specific legislation"

I agree that this has been happening, sadly.