Friday, June 27, 2008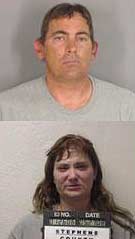 Bail Lowered; Owners Go Home
Breckenridge, TX - Bail for two Breckenridge residents arrested in connection with the dog-mauling death of Tanner Monk was reduced, and both have been released. Jack Smith, 45, and Crystal Watson, 27, were arrested in connection with the death of Tanner. Bail for each person was initially set at $250,000 each but was reduced to $10,000 each.
Smith and Watson live next door to the Monk family and are now headed home.
Two pit bulls attacked Monk, who was found dead on the road outside of his home. The dogs were shot after they became aggressive toward authorities. Two other dogs belonging to Smith and Watson were ordered destroyed later. Both Smith and Watson are charged with a dog attack resulting in death, a second-degree felony punishable by up to 20 years in prison and a maximum fine of $10,000.
90th District Judge Stephen Crawford issued a gag order in the case June 16th, forbidding the discussion of case details.
Related articles:
05/29/08:
Pit Bull Owners Arrested in Death of Tanner Joshua Monk
05/26/08:
2008 Fatality: Video Tribute to Tanner Joshua Monk
05/19/08:
2008 Fatality: Boy Killed by Pit Bulls in Breckenridge, Texas
05/19/08:
Roll Call: Texans Killed by Pit Bulls in 2007
Labels: 2008 Dog Bite Fatality, Tanner Monk, Texas, Texas Pit Bull Fatality

Please donate to support our work
DogsBite.org is a 501(c)(3) tax-exempt public charity organization. Learn more »
posted by
|
permalink
|
10 comments
|

email
|

blog rss
|

comment rss

10 comments:

Anonymous | 6/27/2008 10:20 PM | Flag
Smith and Watson have had their bail reduced and they have been released to go home. Tanner Monk is still dead. Hardly seems fair does it?

Anonymous | 6/28/2008 12:37 PM | Flag
This is an insult. When a pit bull kills, there is no reasonable "accident" defense. This is no more an accident than causing an injury or death while driving drunk. The risk of pit bulls is well understood, the outcome is predictable and the frequency, legendary. The 10,000 dollar bail does not fit the crime.

Anonymous | 6/28/2008 2:34 PM | Flag
What a disgrace. I can imagine what it must be like for the mother of the dead child to have to look out her window and see these two monsters every day, knowing what her son went through in his last minutes on earth.

I hope the community is outraged over this, and that these monsters are ultimately sentenced to prison for what they did.

Anonymous | 6/29/2008 10:47 AM | Flag
Smith and Watson meet Smith and Wesson.

Accident shmaccident.
I hope these two extras from "The Hills Have Eyes" FRY!

Anonymous | 6/29/2008 4:45 PM | Flag
OMG!!! Your comment made me laugh!!!! I was thinking of the same movie when I first saw their picture!

Dee | 6/30/2008 4:19 AM | Flag
I pray for the Monk family -- these neighbors just returned to their home next door. CAN YOU IMAGINE? The absolute destruction that a fatal or serious dog attack brings to a family, a neighborhood and an entire community is wholly overwhelming. Not to mention the catastrophic PAIN.

David | 6/30/2008 5:12 PM | Flag
Keep an eye on these people. If they don't go to prison, it would not surprise me to see them with more pit bulls.

Anonymous | 7/02/2008 5:34 AM | Flag
I'd like to know where these two Slingbladers obtained the dogs from....

Pit Bulls have killed 13 Texans in the last 24 months. Clearly, mankillers are being bred in Texas.

Animal control "Professionals" seem to be asleep at the switch.

Anonymous | 12/31/2009 12:15 AM | Flag
this is sad that this had to happen to one of my family members. its rediculous that these pieces of shit are out of jail.

jennifer | 5/18/2012 2:39 PM | Flag
my name is jennifer im jack smiths daughter NOT PROUD BY NO MEANS TO SAY THIS, I HAVENT SEEN JACK SINCE I WAS 12YRS OLD I HOPE HE ROTTS IN PRISON COME ON HE WAS FIGHTING THESE DOGS THE DAY BEFORE AND NOW WE HAD A INOCCENT PRECIOUS LITTLE DIE FROM THESE DOGS HE HAS NO SOUL NOR SALVATION IM 29 YRS OLD NOW STILL NO CONTACT WITH THIS PIECE OF SHIT I DO KNOW THAT HE IS RUNNING FROM THE LAW HE NEEDS TO BE CAPTURED. TO TANNERS FAMILY IM SO SORRY FOR YOUR LOSS MAY GOD BLESS YOU ALL.