Sunday, April 6, 2008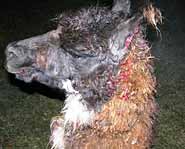 Graham, WA - Two rottweilers declared "potentially dangerous dogs" under Pierce County law continue to roam freely. The dogs were given the label after attacking livestock. On January 24, 2008 Marcie Kephart's llama, Danner, was injured so badly in the attack it had to be put down the following day.
Michael Tyler, the owner of the rottweilers called Bonnie and Clyde, continues to evade responsibility and the law. Meanwhile, Kephart and other neighbors fear loss of more livestock and can't get authorities to enforce the "potentially dangerous dog" (PDD) label. The labeling requires that a dog be leashed and muzzled when off owner property.
The problems in Pierce County are duplicated a hundred times across the US in regions populated with small towns and farming communities. One look at
Lubbock County
shows you just how alarming the problem of dangerous dogs living near livestock is becoming. Owners of these dogs refuse to properly constrain them and suffer hardly any consequence because of it.
In a nutshell, these are the issues many livestock owners face:
The central issue is lack of animal control resources. In a recent incident involving Bonnie and Clyde, animal control officer Brian Bowman had to drive from Gig Harbor about 30 miles away, to respond to a complaint that they were loose again. By the time he arrived, the owner had a friend remove the dogs from his property. Tyler told officer Bowman that the dogs were "gone" and that someone had cut the lock on his fence.
Another issue is a break down in communication between agencies. When neighbor Lisa Scheimfer saw that Tyler's dogs were loose, she called 9-1-1. The operator had no idea what a PDD label was. Both Kephart and Scheimfer wonder why the sheriff's department didn't respond. Two loose rottweilers that have killed livestock in the past are a recipe for disaster for unsuspecting human beings and livestock.
Image depicts Kephart's llama, Danner, after the attack.

Please donate to support our work
DogsBite.org is a 501(c)(3) tax-exempt public charity organization. Learn more »
posted by
|
permalink
|
7 comments
|

email
|

blog rss
|

comment rss

7 comments:

Anonymous | 4/06/2008 9:06 PM | Flag
Time for the neighbors to SSS(shoot, shovel, and shut up).

Where I grew up, the dogs would just quiety disappear.....BEFORE a child was killed, not after.

Anonymous | 4/06/2008 11:52 PM | Flag
I'm down with the Triple 'S' approach! The problem with trying to go about it the "right way" is that pit owners never seem to hear the fair and friendly request. When a different neighbor is forced to handle it and the dogs go missing, the person who approached them comes under suspicion and suffers retribution in the form or vandalism, etc.

Lesson learned. Make 'SSS' Plan A.

Anonymous | 4/08/2008 5:09 AM | Flag
SSS - that's great! I will be sure to pass it on. People in my town say, "Do we need to dig a hole tonight?" The meaning is understood and shovels are readily available.

Anonymous | 7/25/2008 3:20 PM | Flag
I was told by a person at the animal control that if a dangerous dog is off their yard and near you, you can kill it and not have any legal problems because the dog was not on their own yard.

My grandson was bitten by a pitbull on the back of his head after the dog knocked him to the ground.

He was taken to the ER and will have scars for the rest of his life on the back of his head. Thank GOD that his hair covers the scars.

Several of the people in our neighborhood wrote affidavits to the animal control after being told doing so would help them (animal control) in court to prosecute the owners and have the dog removed.

I got a call today telling me that they will not remove the animal because there's only been ONE complaint (even though we sent the other 6 complaints of different incidents from our neighbors, in the SAME envelope) and they won't do anything and we can't take them (the owners) to court because the dog was in his own yard and on a chain when my grandson went to pet the dog.

The owners allowed my grandson to enter their yard to play with their son and never told him to stay away from their dog. My 6 yr. old grandson didn't know the dog was dangerous and went to pet it.

We didn't know the dog was in their yard and accessable to the children or we would not have let them go play at that house. We thought the dog would have at least been in their back yard on a chain IF it were chained up.

This dog has attacked other animals in the neighborhood, cornered other people and done some really crappy things and he gets to stay with the owner and the owner has NO CONSEQUENCES whatsoever!

Why? Because no one complained about anything else until now. What a CROCK!

It really REALLY makes me mad that our children in the neighborhood now have to be constantly worrying about being bitten by this dog and no one does anything!

Why should the children in our neighborhood be made to stay in their own yard if it's fenced or in their house, trapped and unable to leave it because a DOG who is dangerous is allowed to roam free if the owners let it or the animal can't be control and is constantly escaping?

These "laws" are a joke in my opinion! If you have to deal with this kind of thing with the animals that have already attacked and nearly killed a child and NO ONE does anything why even make the freeking laws??!! Why should someone have to DIE before they do anything???!!

Sorry, I'm still just in shock that nothing can be done about such an animal and lives have to be put in danger and nothing can be done. I just can't beleive this is happening right now. :(

bitbypit | 7/25/2008 11:40 PM | Flag
To the last anonymous comment, DogsBite.org has elevated your comment to a whole new post. Please click the below link and track the comments!
Victimized by Arcane Dog Laws that Protect Dangerous Dogs

Thank you for sharing your story.

Anonymous | 7/26/2008 2:05 AM | Flag
I was the one who posted the last comment in which I described the situation with my grandson getting bitten by a pit bull dog.

I didn't realize just how many other people have problems with dogs and laws.

I am just appauled that dogs have "rights" and can get away with biting a human in the first place in an unprovoked situation.

It really makes me sick too how a dog's life and preservation seems to be more important than a human life.

People get put in jail, fined, and punished for abusing a dog (or other animals) but if a dog bites someone like the one that bit my grandson, they get "more chances". It makes no sense.

I have pictures of my grandson's bites right after it happened and when he'd gotten out or the ER. Is there any way I can post those to show what this dog did to my grandson?

bitbypit | 7/26/2008 12:48 PM | Flag
Please visit the Contact Us page and click the Email link anonymous. Then you can send your photos to DogsBite.org.