Saturday, February 23, 2008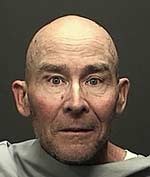 The Clean Up is Grim
BUST UPDATE:
Tucson, AZ - Patrick Mahlon, pictured is now locked up, while the future of his confiscated dogs remains unclear. Investigators also seized more than 50 weapons from a mobile home, including assault rifles, long guns and handguns. Authorities say the stench in the breeding barn was so strong it was almost unbearable.
"It's pretty disgusting," said Humane Society Investigator Mike Duffey. "Animals are being bred for financial gain and not a lot of care involved with them. It's a dirty, filthy, disgusting place."
Local KVOA News 4 has learned that the FBI and the Department of Agriculture (USDA) will be assisting the Pima County Sheriff's Department in the investigation. The USDA was the lead agency in the investigation involving Michael Vick.
It's no surprise that authorities are finding remains of dogs in shallow graves on Mahlon's property -- both adult and puppies. Sgt. Terry Parish says the puppies were either an inadequate size or were used as a bait animal to get the blood lust going. Evidence found near living puppies, seized earlier this week, indicates that they had infections in their feet from standing in their own feces. Sgt. Parish adds:
"(PCSO) Sheriff Dupnik isn't just interested in putting a dent in this crime; we want to put it out of business and make sure it never starts again. Make sure these players never do this type of activity ever again."
Related articles:
02/21/08:
Officials Dismantle Upper Echelon Dog Fighters
02/20/08:
Big Fighting Dog Breeder Busted
Labels: Arizona, Dogfighting

Please donate to support our work
DogsBite.org is a 501(c)(3) tax-exempt public charity organization. Learn more »
posted by
|
permalink
|
3 comments
|

email
|

blog rss
|

comment rss

3 comments:

Anonymous | 2/24/2008 10:09 AM | Flag
Has anyone noticed that none of the pro-pit rescue organizations have much to say about dogfighting? They are all suspiciously quiet on the topic, including the venerable BadRap. Most of their energy goes into promoting the breed as pets....which only seems to help the market for back yard breeders. You would think that these organizations would also be at the forefront of a movement to end dogfighting....advocating against dogfighting websites, the mainstream newspapers who run ads for pit bulls from fighting bloodlines. They don't.

I know that some of the groups who rescue sporting dogs are very vocal about the practices of large scale breeding operations that overbreed to produce hunting dogs, then dump the dogs that don't work out. Not so the pro-pit lobby. There seems to be some sort of unholy alliance between the folks obsessed with promoting and rescuing this breed and the "dogmen" who still breed the "oldtime gamebred dogs". The pit rescue groups do't seem the least bit inclined to make it harder for the dogfighters to continue doing what they do. It's an interesting dynamic, and really makes you wonder.

Anonymous | 2/24/2008 10:30 AM | Flag
Just so readers know, the AADR is just another fake dog registry that dog fighters and back yard breeders use to pretend they are breeding "show" dogs. The breeders occasionally get together for "shows" where they simply give each other's dogs ribbons and declare them "Champions".

The shows serve two purposes; they provide a cover for illegal dogfighters to breed and transport dogs to "shows", and it allows horrible back yard breeders to claim that they breed "show dogs", therefore they can charge more for puppies.

Anonymous | 2/28/2008 7:42 AM | Flag
Update: Looks like this could be "The Big One". The authorities now have the membership files of the AADR.

http://www.explorernews.com/article/show/21521