Monday, December 17, 2007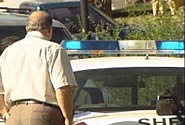 2-Year Old boy Mauled to Death by Pit Bull
Charelston, SC - In today's tragedy, the grandmother had been babysitting two-year old Holden Jernigan when he wondered outside unnoticed. The family's 40lb pit bull bit the boy's head and neck, killing him before rescuers arrived. It is unclear if the dog was chained or not.
This is the second fatal pit bull attack in Dorchester County this year. Back in April, 1-year old Brian Palmer was killed by the family's pit bull. The dog had gotten out of the laundry room. Brian was found in an upstairs room fatally mauled. There were no adults present at the time of the attack. The mother was arrested and charged with unlawful conduct toward a child.
After Brian Palmer was killed, People for the Ethical Treatment of Animals (PETA) had asked the Dorchester County Council to ban or restrict new ownership of pit bulls. PETA wasn't successful because state law doesn't allow the county to declare a "breed" of dog dangerous. The same type of state law exists in Colorado and cities effectively pass pit bull bans anyway.
So far in 2007, pit bull types are responsible for 19 of the 33 dog bite fatalities, 58% percent. The nearest rival is the rottweiler at 12% percent. Given that pit bulls make up about 5-9% percent of US household dogs, there is a clear disproportionate relationship to the number of pit bulls and the amount of killing done by them.
Labels: 2007 Dog Bite Fatality, South Carolina

Please donate to support our work
DogsBite.org is a 501(c)(3) tax-exempt public charity organization. Learn more »
posted by
|
permalink
|
0 comments
|

email
|

blog rss
|

comment rss