Friday, December 7, 2007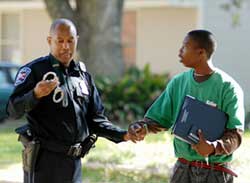 Neighbors Say He Liked to Fight the Dogs
Natchez, MI - Johnny Rodriguez is an angry man. On Wednesday morning his boxer, Duke, was mauled to death by his neighbor's pack of pit-bulls. After killing Duke, the same dogs tried to attack construction workers at the home across the street.
A similar incident happened three weeks ago. Rodriguez said he heard barking outside; when he investigated he saw the same dogs attacking his other boxer Angel. Duke defended Angle and was then attacked. For the next 25 minutes Rodriguez fought with the dogs in an effort to release their grip from Duke's throat.
Rodriguez was also bitten in the fight. After filing charges, Rodriguez said he felt confident the matter would have been rectified and the dogs killed. "This [second attack] should not have happened," he said. In fact after he filed charges against the dogs owner, Harold Brunston, he also spoke with the Judge Jim Blough who would have signed Brunston's arrest warrant.
On Wednesday afternoon Blough said he did not know why the warrant went unsigned for so long. Blough said when he heard of Wednesday's incident -- that finally killed Duke -- he immediately signed the warrant for Brunston's arrest. Just hours after the attacks Brunston was arrested as Rodriguez and his neighbors stood dazed in the street.
Even though Brunston was arrested, Rodriguez is still mad. Rodriguez said since Brunston took ownership of the three pit-bulls, he has been taunted by them. Rodriguez said Brunston would routinely allow the dogs, while leashed, to provoke his dogs at their front gate.
Rodriguez said he has seen Brunston and others fighting dogs in the front yard of their home. Two of the three dogs bore scars both new and old. One dog had numerous cuts and what appeared to be an eye infection, while another, with tightly cropped ears, had scars both new and old on its face. An animal control officer at the scene said the dogs will be euthanized.

Please donate to support our work
DogsBite.org is a 501(c)(3) tax-exempt public charity organization. Learn more »
posted by
|
permalink
|
2 comments
|

email
|

blog rss
|

comment rss

2 comments:

MAC | 12/09/2007 11:31 AM | Flag
THIS IS AWESOME! I love this photo!!! I can't help but feel that if ALL of the owners of aggressive dogs were arrested and their photo printed in the paper when their dogs got loose and terrorized their neighborhood, we would have a lot less dog attacks!

FYI: Mississippi ranks 50th in the nation when it comes to animal cruelty laws and prosecution of those laws.

Sheeba | 12/12/2007 3:12 AM | Flag
"Son, I hate to say this, but you're going to jail!"

A priceless photograph for sure!

Throw the college binders into the trash can. You won't need them where you are going...

We've got to get the message out to people that "tough dogs" have repercussions. I personally do not think existing repercussions are near strong enough, but at least is this case he was darn well sited and arrested.

I recently read about a city that places recent DUI offenders onto billboards, "THIS COULD BE YOU." It would be darn interesting to see the same for oblivious and egregious dog owners..